Sale!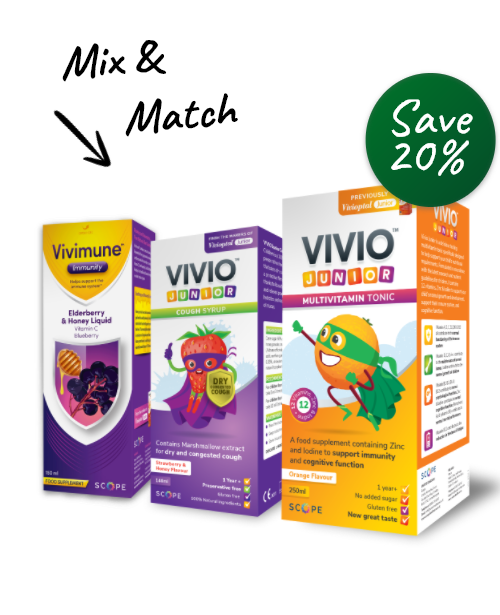 Back To School Bundle for the whole family
From €21.48 inc. Vat
Save 20% on our VIVIO® Junior and Vivimune™ products to give your family's immune system a boost this back to school season.
90 in stock
How To Use
Always read the label and instructions for use
---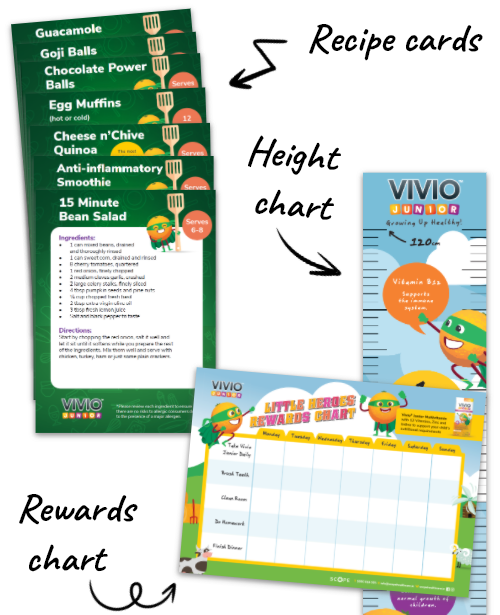 Product Information
Mix and match 3 of our Scope Healthcare products
7x easy to make recipe cards
1x Rewards chart
1x Height chart
1x Exam stress guide (Not pictured)
Add to bag
Direction for Use*
VIVIO® Junior Multivitamin Tonic
VIVIO® Junior is packed with all 12 Vitamins but now has increased Zinc and added Iodine to support growth, immunity and cognitive function.
This delicious tasting multivitamin tonic is suitable from 1 year+ and has been specifically formulated with the latest research and nutrient guidelines for children.
It is ideal to take daily for nutritional support going back to school, during the winter months, while traveling, or anytime of the year.
No added sugar
Gluten and lactose free
No need to refrigerate
New great taste
VIVIO® Junior Cough
A 100% natural and preservative free cough syrup, specifically formulated for Children 1 year+ for both dry and congested cough.
Provides a sensation of calm, hydration and protection of the upper respiratory tract, modulating the cough without suppressing it.
The exclusive formula has a soothing and delicious taste thanks to the natural honey and strawberry.
The added marshmallow extract reinforces the soothing and calming properties of the syrup due to its natural mucilage properties.
Dry cough: VIVIO® Junior Cough Syrup forms a protective film on the throat, thanks to the xanthan gum and arabic gum action, which protect the throat from the contact of irritant or infectious agents, relieving its irritation and keeping it hydrated and lubricated.
Congested cough: VIVIO® Junior Cough Syrup also hydrates and reduces the thickness of the mucus thanks to the cane sugar, which stimulates saliva and increases the water content in the mucus to make it more fluid and easier to clear.
Free from artificial colours, flavours or sweeteners.
Gluten and lactose free
Suitable for vegetarians
Does not need to be refrigerated
Vivimune™ Immunity
Vivimune™ Immunity is a soothing liquid with Elderberry and other carefully selected powerful ingredients from nature for your daily immune system support
Vivimune™ can be taken daily for support throughout winter cold & flu season, during stressful times, when traveling or anytime of the year
The Power of Dark Berries: Used for centuries in warming winter syrups, Elderberry and Blueberries are naturally rich in flavonoids called anthocyanins, and combine well with Rosehip which is rich in the natural anti-oxidant Vitamin C.
Honey: This amber elixir contributes to the soothing, natural flavour of Vivimune™ with no sweeteners required. Honey is also used by bees as a natural anti-bacterial agent.
Rosehip: Highly absorbable natural Vitamin C in Rosehip supports the immune system, reduces tiredness and fatigue and increases iron absorption.
Resveratrol: Vivimune™ contains Resveratrol from nature's best source: Japanese Knotweed. Resveratrol is found in plants to help them fight off germs.
Free from artificial colours and flavours
Suitable for vegetarians
Gluten, dairy and lactose free
Does not need to be refrigerated
* If you are taking any medication or have any medical condition please consult your doctor before taking any food supplement.
---