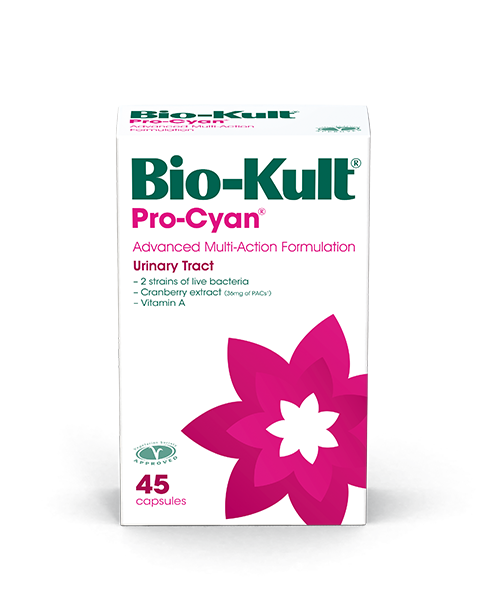 Bio-Kult® Pro-Cyan®
€19.95 inc. Vat
An advanced multi-action formulation with cranberry extract and vitamin A to target the urinary tract
Also available nationwide in Pharmacies and Health-food stores
---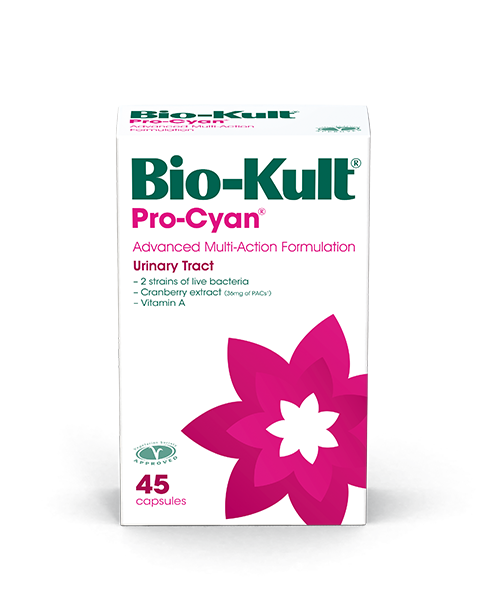 Product Information
Bio-Kult® Pro-Cyan® is a scientifically developed multi-action formulation that works with the body to help maintain normal levels of bacteria in the gut designed to target the urinary tract.
Bio-Kult® Pro-Cyan® provides: 36mg of cranberry extract PACs per dose, two specifically selected live bacteria strains and vitamin A to contribute to the normal function of the immune system and maintenance of healthy mucous membranes which can be found lining the gut, mouth and urinary tract.
Suitable for everyday use as part of a healthy lifestyle.
Great travel companion (no need to refrigerate).
Backed by clinical research.
Suitable for children.
Gluten free.
Vegetarian Society approved.
Use alongside antibiotics.
Add to bag
Direction for Use*
1 capsule twice daily with food. Or as recommended by your doctor or healthcare practitioner.
Children 5+: Take 1 capsule daily.
Pregnancy: Bio-Kult® Pro-Cyan® contains vitamin A, please consult your doctor or pharmacist before use if you are pregnant or planning a pregnancy.
Do not exceed recommended daily dose.
Food supplements should not be used as a substitute for a varied diet and a healthy lifestyle.
Keep sealed and store in cool, dry conditions. In high, ambient temperatures (25°C+) air-conditioning or refrigeration would be cautionary to assist in maintaining shelf life.
Can be stored at room temperature without the need for refrigeration. Total bacteria count viable until the end of shelf life.
* If you are taking any medication or have any medical condition please consult your doctor before taking any food supplement.
---