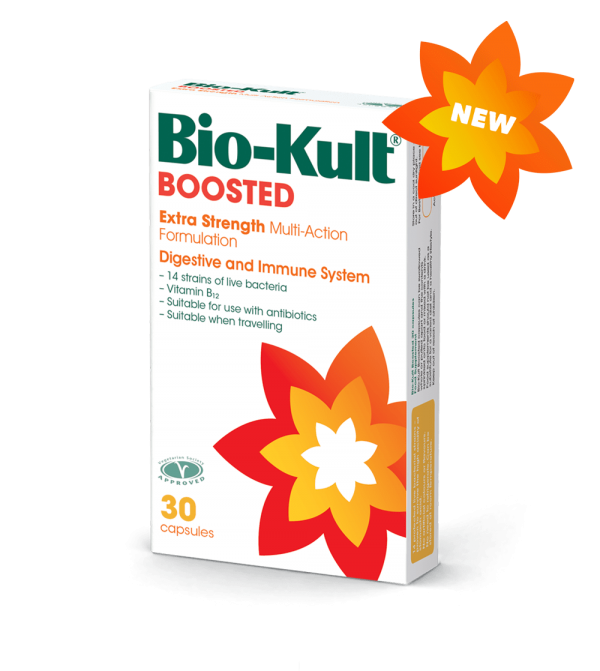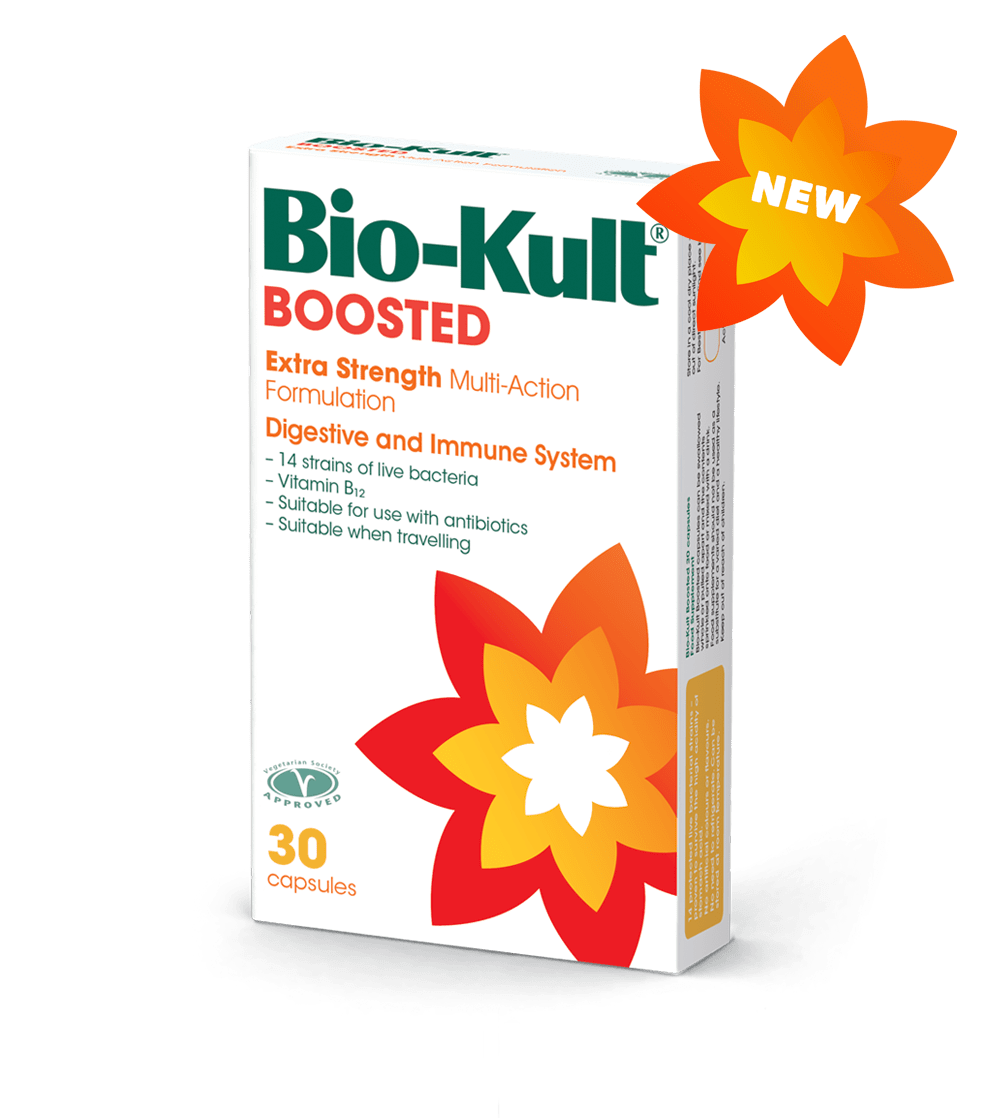 Bio-Kult® Boosted
€28.95 inc. Vat
A unique extra strength multi-strain live bacteria supplement with vitamin B12 to target the digestive & immune system.
Also available nationwide in Pharmacies and Health-food stores
Out of stock
---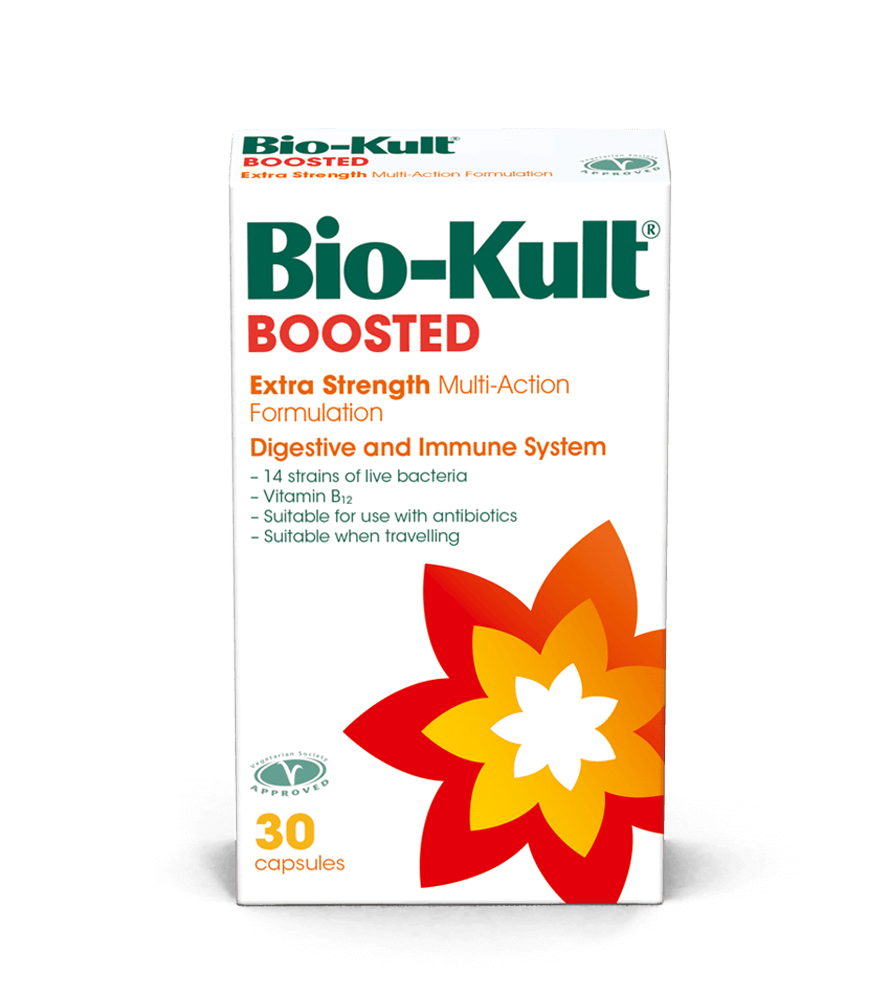 Product Information
4 times the power of Bio-Kult Advanced
Bio-Kult Boosted is a unique multi-strain live bacteria supplement with the same great 14 strains of live bacteria found in Bio-Kult Advanced but at 4 times the concentration. Bio-Kult Boosted also contains vitamin B12 to support the immune system.
Targets the digestive and immune system
Only 1 capsule a day
Great travel companion (no need to refrigerate)
Use alongside antibiotics
Suitable for everyday use as part of a healthy lifestyle
Leading bacteria brand
Internationally acclaimed range
Backed by clinical research
Bio-Kult capsules can be pulled apart and the contents sprinkled onto food, mixed with a drink or swallowed whole
Suitable for children and pregnant women (we would always suggest consulting your doctor or healthcare practitioner before taking any food supplement)
Gluten free
Vegetarian Society approved
Nutrition Information per capsule:
Vitamin B12 2.5mcg (100% NRV)
8 billion live bacteria microorganisms per capsule (8 x 109 CFU) viable throughout the shelf life equivalent to 20 billion microorganisms per gram (x2 1010 CFU).
Add to bag
Direction for Use*
Adults & children 12+*: Take 1 capsule per day with food.
Children Under 12: Please use Bio-Kult Advanced or Bio-Kult Infantis.
Pregnancy: Bio-Kult Boosted is suitable for use during pregnancy, but we would always suggest consulting your doctor or healthcare practitioner before taking any food supplement.
For those travelling , take 1 capsule daily one week before and during travel. Continue for at least one week after return.
For those using alongside antibiotics, take 1 capsule daily, ideally at a different time of day to the antibiotic dose and continue for at least 2 weeks after completion of the antibiotic course.
Food supplements should not be used as a substitute for a varied diet and a healthy lifestyle.
Do not exceed recommended daily intake.
Contains soya and milk, used in the fermentation process. Content of milk is at a level that would not affect lactose intolerance sufferers.
Keep sealed and store in cool, dry conditions. In high, ambient temperatures (25°C) air-conditioning or refrigeration would be cautionary to assist in maintaining shelf life.
Can be stored at room temperature without the need for refrigeration.
Total bacteria count viable until end of shelf life.
Keep out of reach of children.
* If you are taking any medication or have any medical condition please consult your doctor before taking any food supplement.
---